The Cayman Islands is a United Kingdom Overseas Territory located in the Northwestern Caribbean Sea.
They are about 150 miles south of Cuba, 460 miles south of Miami, Florida, and 167 miles northwest of Jamaica. Cayman's proximity to the equator means the Islands enjoy a tropical climate year-round, cooled by the prevailing trade winds. The relatively dry winter season runs from November to April, with temperatures ranging from 72°F to 86°F (22°C to 30°C) during the day. The rainy summer season is May to October, with May and October being the wettest months. Temperatures reach from 85°F to 90°F (29°C to 32°C).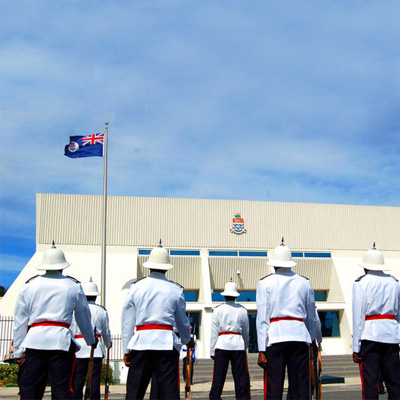 The country has a population of about 57,000 persons spread over of 3 islands: Little Cayman, Cayman Brac and Grand Cayman. The capital, George Town, is located on Grand Cayman. The Cayman Islands are a showcase of natural beauty filled with the vibrant tropical colours of the lush Caymanian flora, bright coral reefs, flourishing marine life, and exotic native birds. Approximately 22 miles long with an average width of 4 miles, Grand Cayman has a population of about 53,000 and is the largest of the three islands.
Political stability, a high literacy rate, low unemployment and low inflation have helped to create a high standard of living. This has facilitated the development of modern infrastructure, including high quality telecommunications and transportation systems and education and healthcare programmes. The Cayman Islands has strong relationships with other countries. Several airlines provide direct air-links between the Islands and the US mainland, Canada, the UK, and other Caribbean cities. These include Cayman Airways, Air Canada, Air Jamaica, American Airlines, British Airways,  Continental, US Air, and others.
A parliamentary democracy since 1831, the Cayman Islands is, to a large degree, self-governed through its democratically elected Legislative Assembly. Elections are held every four years. Following every election, Members select from amongst themselves, by ballot, seven members to serve on the Cabinet and to assume responsibility for Government Ministries. In addition to these Government Ministers, Cabinet also includes two ex-officio appointees who are responsible for two portfolios of government administration.
Cayman Islands Government Website: www.gov.ky