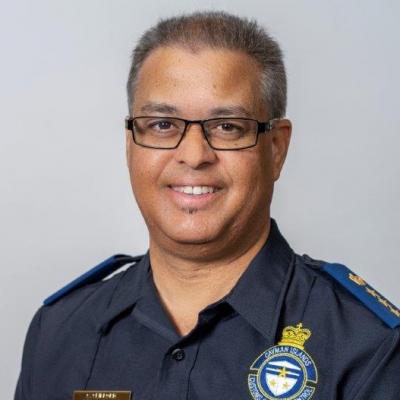 Director
1 September 2019 - 31 August 2022
Charles Clifford was appointed as the Director of Customs and Border Control, an integrated department which will be established through the merger of the Customs Department and components of the Immigration Department. He has held this position since January 2019. 
Mr. Clifford formerly served with other departments within the Cayman Islands Government. He started his career in 1980 with the Royal Cayman Islands Police Service and served with them for 17 years, reaching the position of Chief Inspector in charge of Police Administration. During his policing career he trained with the Federal Bureau of Investigation (FBI), Drug Enforcement Administration (DEA), Scotland Yard, and the Royal Canadian Mounted Police.
In 1997, Mr. Clifford was appointed Senior Assistant Secretary in the Ministry of Tourism, and was promoted to Permanent Secretary in 2001. In 2004, after 24 years of public service, Mr. Clifford resigned from the Cayman Islands Government and joined the law firm of Quin & Hampson.
In 2005 Mr. Clifford was elected as a Member of the Legislative Assembly – 2nd Elected Member for the District of Bodden Town, and was subsequently appointed as the Minister of Tourism, Environment, Investment and Commerce. He served in that post until 2009 and gained considerable experience in representing the Cayman Islands at international forums involving the Foreign and Commonwealth Office, the United Nations, CARICOM, and other Overseas Territories.
Mr. Clifford has held appointments on a number of boards and committees in the Cayman Islands public and private sectors including: Chairman of the National Tourism Management Policy Steering Committee; Chairman of the Air Transport Licensing Authority; Deputy Chairman of the Port Authority; Member of the Cayman Airways Board of Directors; Member of the Cayman Turtle Farm Board of Directors, and Member of the National Hurricane Committee.
Mr. Clifford holds a Bachelor of Laws (Honours) Degree from the University of Liverpool, and a Professional Practice Certificate from the Queen's University of Belfast. He was admitted to the bar as an Attorney-at-Law in 2012 and consequently opened his own law firm, Clifford Law Associates, and partnered with two other local attorneys.