Representatives of the Republic of the Marshall Islands (RMI) Registry and the Cayman Islands Shipping Registry met in George Town, Cayman Islands on 5 September 2016 to discuss the RMI's Master (Yachts) Unlimited Tonnage Certificate of Competency (CoC) and the Cayman Islands Registry's recognition of this Certificate.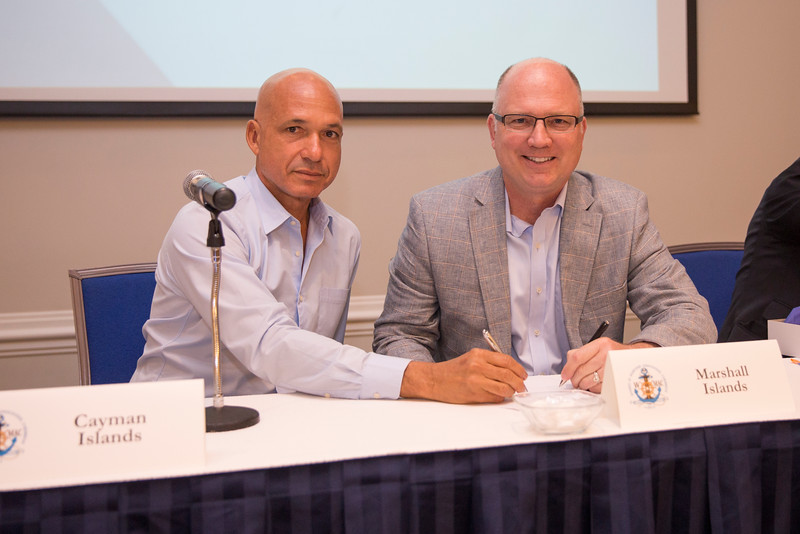 The meeting was held on the opening day of the International Maritime Organization (IMO) supported conference Women in Maritime Association, Caribbean (WiMAC) "Charting the Course for Generations of Women" which is taking place in the Cayman Islands this week.
The RMI's Master (Yachts) Unlimited Tonnage CoC encompasses all of the Standards of Training, Certification and Watchkeeping (STCW) elements and requirements of the Master Unlimited CoC, with the exception of cargo related subjects, and as such is fully STCW compliant.
The Master (Yachts) Unlimited Tonnage CoC has been designed by the RMI  to allow owners and managers to keep their working relationships with trusted and experienced yacht Masters, who can now continue their yachting careers over the traditional limit of 3,000 gross tons (GT).
The RMI Registry, in coordination with Marine Professional Training (MPT) in Fort Lauderdale, Florida created the Capstone Course/Assessment, which is a rigorous five (5) day training and evaluation course that includes a written multiple choice exam and simulator assessment in order to determine the candidates' knowledge and experience in command of large yachts. The next Capstone Course/Assessment will begin on September 12.
Candidates will need to meet all the STCW instructional and sea-time prerequisites, which are quite substantial.
The Administrations of the RMI and the Cayman Islands are pleased to cooperate on this, and many other issues. The two island nations, both with high quality shipping registries, face common challenges and seek similar solutions in their joint effort to ensure quality shipping, safety of persons at sea, and cleanliness of the marine environment.
GEORGE TOWN, Grand Cayman; 5 September 2016