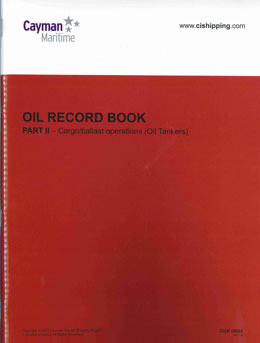 Every oil tanker of 150 gross tonnage and above, shall be provided with an Oil Record Book Part II (Cargo/Ballast Operations). The Oil Record Book, shall be in the form specified and it is important that the record book is kept up to date with any revisions.
It is essential that all the ORB contains entries required by Marpol and that the Master and all officers are familiar with the guidance on making entries and maintenance of the ORB. 
The Oil Record Books may be subject to inspection by Port State Control or Government officers while the ship is in its ports or offshore terminals and the officers may make a copy of any entry in the books, and may require the master of the ship to certify that the copy is a true copy of such an entry. Any copy so made, which has been certified by the master of the ship as a true copy of an entry in the ship's Oil Record Book or shall be admissible in any judicial proceedings as evidence of the facts stated in the entry.