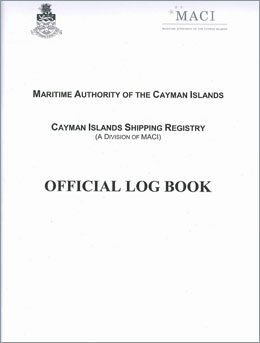 Section 140 of the Merchant Shipping Law requires that an Official Log Book (OLB) be kept on every Cayman Islands ship, including commercially operated yachts.
The OLB is an important legal document required by Merchant Shipping Laws and is a record of activities carried out on board ship as required by CISR. The OLB or extracts therefrom along with Deck and Engine Room log books may be submitted as evidence in courts of the Cayman Islands.  All entries made must be timely and accurate and the master is guilty of an offence for any omission in this respect. The master of a ship may be required to produce the OLB to an Officer of CISR or a customs officer on demand.
It is essential that all the OLB contains entries required by the Laws and regulations of the Cayman Islands. Should the OLB be incomplete or not maintained, the absence of proper entries could prejudice the position of the Master in the event of an accident and any inquiry into that accident. It is an offence to fail to keep the OLB or to make incorrect entries.